Maybe I should move to ATL? I LOVE IT!!! and it totally suits my level of
bourgeois
. I could TOTALLY be a Georgia Peach!
Thought?
Anyway- the show lived up to everything I expected. Some tidbits...
- NeNe, the shows "when keeping it REAL goes wrong" character gets invited to the day party of another key player. They had been on the outs so this was a peace making effort. She gets to the door and her name isn't on the list. She proceeds to go BULLISTIC. 'cussin and screaming and thorwing a fit. When Sharee (the person throwing the part finds out) she blinks for a second then proceeds to comment on a fellow party-ers eyelashes. HAHAHA
- The shows only white character, Kim, claims that she is a black woman in a white woman's body and shares with the whole word that her boyfriend wont be on camera because he is THAT rich. His name through out the series will be "Big Papa". He buys her a $70k Escalade over the phone...What have I been doing wrong??
More funniness to come I'm sure...
Nene and Kim: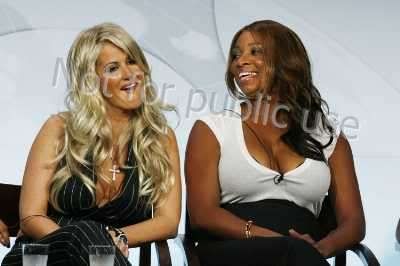 xoxo,
A